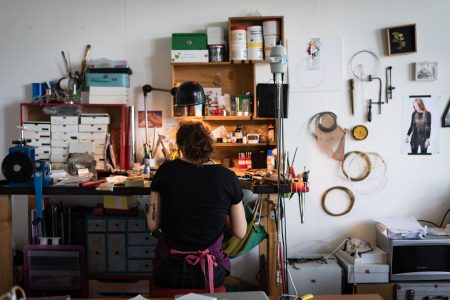 Galatée Pestre, bijoutière
A quoi sert un bijou ? C'est un objet précieux souvent qualifié d'accessoire, de futile... On suppose donc que le bijou ne sert à rien. Mais alors pourquoi est-il aussi répandu ?
Sous l'impulsion de ses propres préjugés sur les bijoux, Galatée débute sa recherche en questionnant son entourage. De ces échanges, elle retient que le bijou est apprécié et porté pour quantité de raisons : il est précieux, il est voyant, il est discret, il est bruyant, il est classe, il est lourd, il est ancien, etc. Elle retient surtout que chacun a quelque chose à raconter sur son bijou… à moins que ce ne soit l'inverse.. ?
Très attachée à son métier de bijoutier, dans le travail « à l'établi », comme dans la proximité avec le porteur, Galatée veut revaloriser le bijou pour son contenu identitaire trop souvent ignoré.
---
Galatée Pestre, jeweller

What use is a jewel? A jewel is a precious object, often considered as a useless accessory… It is assumed that the jewel is of no use. But then, why is it so common?
So with her own prejudice about jewels, Galatée started questioning people around her. What came out of these interviews is that the jewel is appreciated and worn for many different reasons – because it is precious, conspicuous, or discreet, noisy, chic, heavy, or ancient, etc. The main thing she gets from this is that everyone has got something to say about their jewel…unless it is the contrary…?
As she loves every aspect of her job, from working the matter to the closeness with the wearer, Galatée wants to carry a spicy message: give the jewel a new value through its identity.